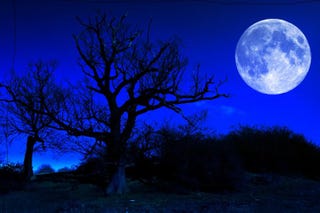 The blue moon, which reached its apex at 6:43a EDT but will rise at 8:14p EDT, is an incredibly powerful moon; if you lean toward the spooky, as I do, you should be sure to harness some of its power.
A blue moon, which in the modern day is defined as the second full moon in a single month, occurs every three years. Today we're having our first one since August 2012.
There are a number of rituals you can perform to take advantage of the power of this blue moon, but for our purposes today for what will be exceedingly obvious reasons, I'm going to focus on one specific set of them: The cleansing rituals.
The blue moon offers its powers to those who are in need of letting go, of both things and of emotions.
If you've been feeling a pull to declutter lately, that's the blue moon working on you. I have felt it strongly for this entire month, with the urge to purge, so to speak, growing more and more intense as the blue moon's appearance got closer. Last weekend I randomly sat down on my kitchen floor and started pulling out baking sheets and cutting boards I was no longer using, instead of taking out the loaf pan for the zucchini bread I was making that I'd originally gone hunting for.
Because today is a Friday and most of you will be at work, you may want to set aside 15-30 minutes today to tidy your workspace. Here's a piece I wrote for Fortune to get you on your way.
Another good thing to do, if you can't actually begin a decluttering or tidying project today, is to take the day to set some intentions around decluttering your home. The power of the blue moon will linger throughout the weekend, and the intentions you set today will allow you to complete organizing and decluttering jobs with joy in your heart. Those chores tend to be difficult, both physically and emotionally, but you'll find them easy and joy-making during this special time.
Your intentions can be held in your mind and in your heart, or you can commit them to paper. Do what feels right to you in this regard. Consider, also, that decluttering efforts need not be overly expansive; you might limit them to cleaning out your sock drawer or paring down your sleepwear collection. (Those are the things on my list, in case you were wondering how I came up with those two very specific illustrative tasks!)
If you would like ideas for what discrete decluttering projects to take on, check out the posts from a Jezebel series I did called Year of the Clean Person to get started.
Are you excited about this blue moon? Will you be harnessing its power to make space in your life? Tell me in the comments what intentions you're setting today. Can I help you in any way? Please ask!
Oh! And don't forget to leave your crystals out tonight so that they can charge by the light of the blue moon.
---
Contact the author at jolie@deadspin.com.