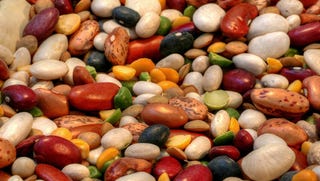 Many, many months ago someone asked me for a white chili recipe. I do make a mean white chili, and I'm not afraid to say so.
The thing is though ... I don't really follow a specific recipe. Which is probably very, very true of many of us with regards to making chili—and that's part of the fun of chili! But I do have a general method by which I make my white chili, and the last time I made it I also wrote down exactly what ingredients I used because I'm a giver.
Before I give you the specific ingredients list I used to make that last batch of white chili a quick note: I definitely am an advocate of the rummaging method when it comes to chili. As in, rummage around in the crisper drawer and among your condiments and yank out any old random things you think would work! The rummaging method once resulted in a great white chili base that made use of the dregs of a jar of salsa verde, and also accounts for why I used the combination of yellow green onions in the version below. I thought I had more yellow onions in the house! Whoops. But it ended up not mattering that I was low on the yellow ones, because the addition of the green ones ended up being great and something I'll continue to do. With that out of the way, to the recipe we go!
Vegetable Things
3 long hot green peppers, diced
3 ribs celery, diced
1 small yellow onion, diced
2 green onions, sliced
4-6 cloves garlic, crushed or minced
Lubricating Things
2 tablespoons olive oil
4 cups chicken stock or broth
Seasoning Things
½ teaspoon white pepper
¼ teaspoon black pepper
½ teaspoon oregano
2 teaspoons cumin
Salt to taste
Hefty Things
2 boneless, skinless chicken breasts (about 10 ounces), cut into small pieces
1 15 ounce can cannellini beans
1 15 ounce can small white beans
Heat the oil in a large, heavy-bottomed pot over medium heat and add the hot peppers, onions and celery. Cook until they begin to soften and brown, adding a small amount of stock if needed to scrape up any browned bits.
Add the garlic and cook until just fragrant, 30 seconds to a minute. Also don't skimp on the garlic—more is better. You can definitely even use more than I did in this particular batch! Then stir in your spices and allow them to toast just a bit, about 30 seconds, before adding the chicken. Allow the chicken to cook until the outside is opaque, stirring frequently to keep things moving. Adjust the heat up or down if necessary to keep the vegetation and spices from burning.
Now it's time to add the remaining stock and the beans, which you should drain and rinse to remove any metallic taste. Let those things simmer, covered, for 30 minutes and then remove the cover and cook for at least another 30 minutes, if not more (feel free to add more stock or water as you go if the chili is starting to get too thick).
You should also taste it after the first 30 minutes and adjust the seasonings if necessary—when cooking with hot peppers, I find it's best to be light-handed in your use of the seasonings that bring additional heat until the peppers have had a chance to show you've what they've got.
The main thing to remember when you're making white chili is that it's white. So the ingredients you use should be white, green and/or neutral (brown). That means that you can use virtually any kind of white bean as long as you don't go any darker than a pinto, and that the spices you use should also be in the white to green to brown spectrum (so: cumin, white pepper, black pepper, oregano, etc.); leave the cayenne for another day. The same applies to your veg—tomatoes and red bell peppers and scotch bonnets should be reserved for that other kind of chili. You know. The red one.